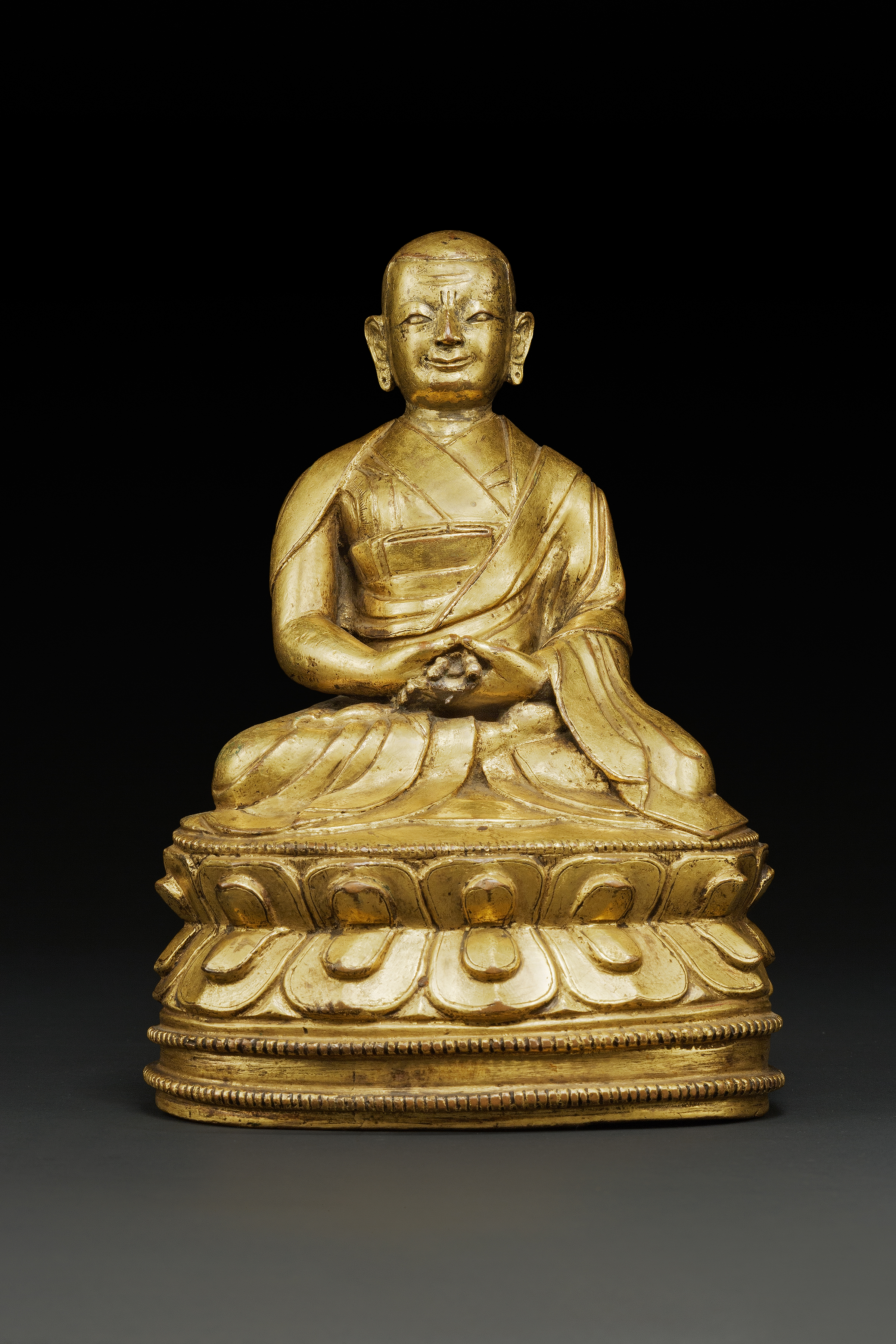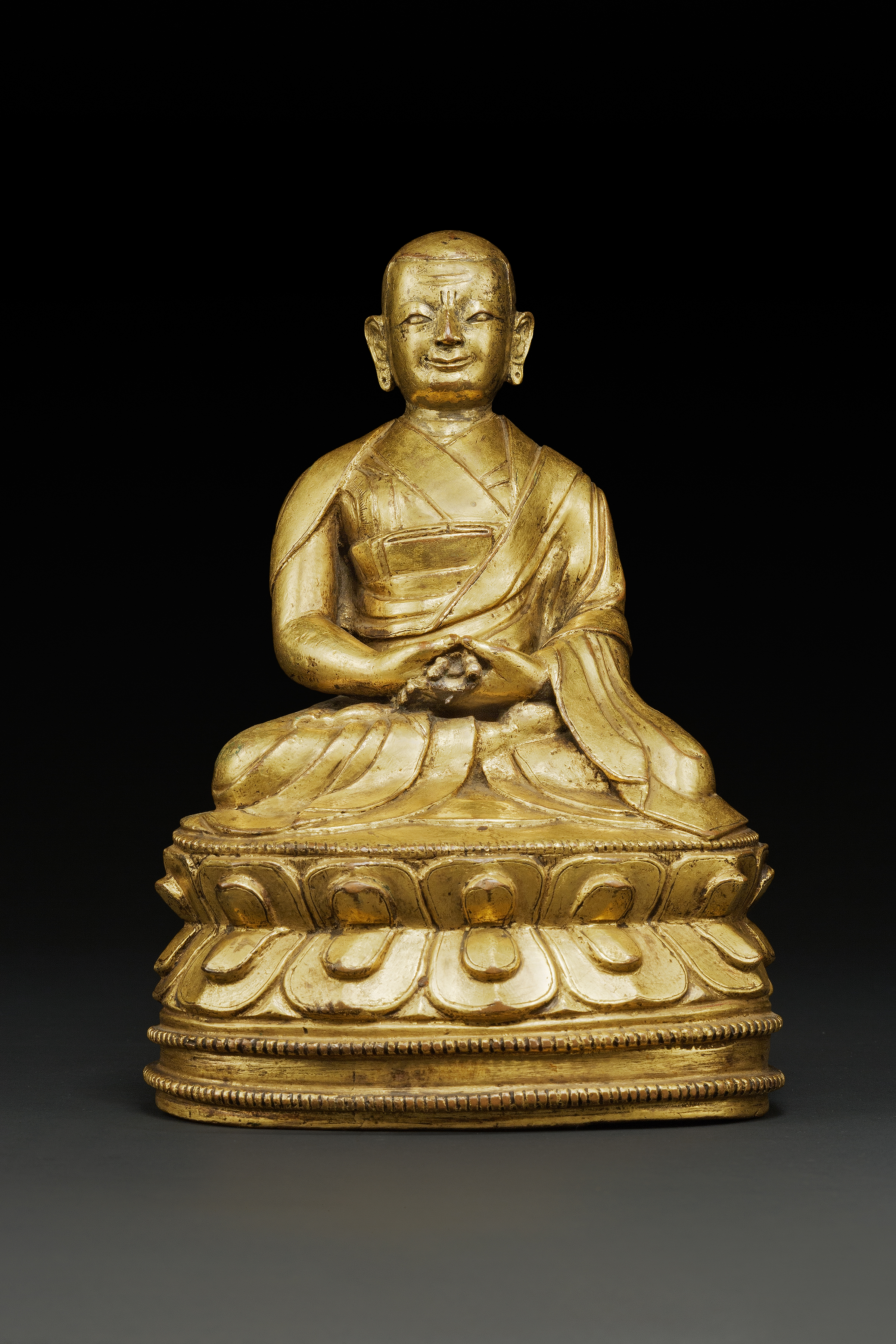 Tibet, Ngor Monastery, 1482-1484
20 cm (7.8 in)
Julien Sherrier Collection, London, formed between early 1940s-1972
Palden Dorje was abbot of Ngor Monastery from 1478 until his death in 1482. Ngor is a subbranch of the Sakya school and its primary seat is located about 12 km south of Shigatse. Ngor is well known to have commissioned some of the finest works of art ever produced in Tibet and for the employment of the most skilled Newar artists from the Kathmandu Valley.
Palden Dorje is portrayed here in the robes of a fully ordained monk while clasping a mala or meditation beads in his hands. This most significant aspect of this statue is the long inscription in verso providing us with the names of teacher and student and thus a probable date of creation.
The first four lines are in praise of Palden Dorje:
"Lord of Dharma,
Glorious Protector of beings,
possessing the nature of innumerable qualities,
with the formless body of powerful Vajradhara;
to Palden Dorje I bow."
The last four lines refer to Palden Dorje in relation to the student, Kunga Chogden:
"to the Dharma Lord who bestows the three [Buddhist] vows,
the teacher unequalled in kindness;
please bless the body, speech and mind of me,
Kunga Chogden"
Kunga Chogden likely commissioned this statue sometime soon after the death of his teacher in 1482, likely within two years, as an act of devotion.
西藏,俄尔寺,1482-1484
20厘米(7.8 英寸)
伦敦Julien Sherrier收藏,形成于二十世纪四十年代早期至1972年
巴登多杰在1478至1482年间任俄尔寺住持,直到他于1482年圆寂。俄尔派是藏传佛教萨迦派的一个重要支派,俄尔寺祖寺则位于日喀则地区以南12公里的地方。此外,众所周知俄尔派曾委托制造了不少藏区的杰出佛教艺术品,并从加德满都谷地聘请来最为出色的尼尔瓦艺术家。
这尊巴登多杰衣着僧袍, 手持念珠。而此尊雕像最值得注意的地方是刻于背面的铭文,上面刻有上师与弟子的名字,我们由此也可考量这尊佛像的大致制造时间。
起始的四句话是在赞颂巴登多杰:
"佛法之王,
伟大的众生保护者,
拥有无数的优秀品质,
与强大的金刚总持无形的身体;
向巴登多杰致敬"
最后的四句话则是在讲巴登多杰和他的弟子贡噶秋登:
"致教授三戒律的佛法之王,
我那无比仁慈的上师;
请保佑我的身、语、意三业
贡噶秋登敬上"
贡噶秋登很有可能在上师于1482年圆寂后不久便委托制造了这尊雕像。按照习俗则很有可能在两年之内。