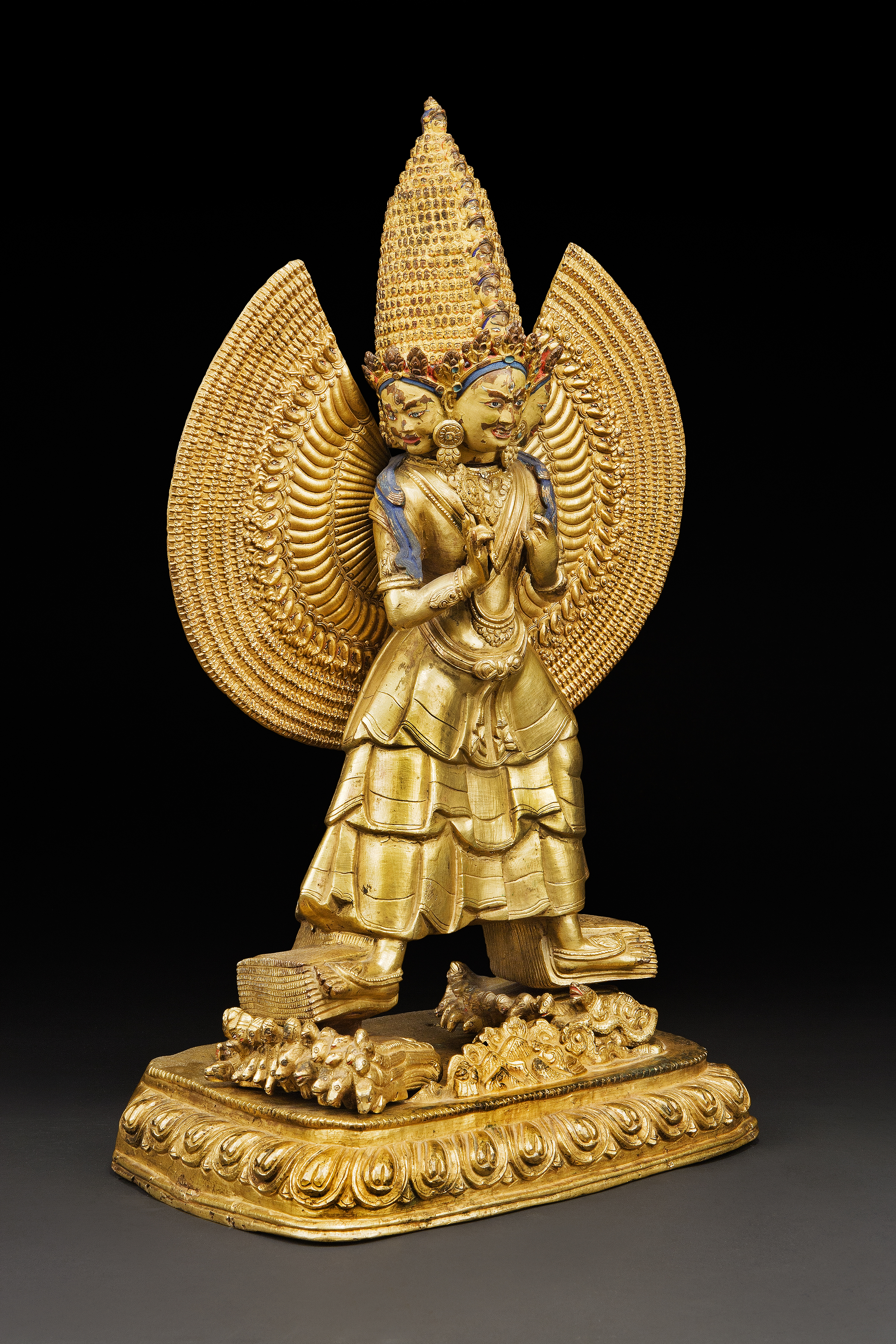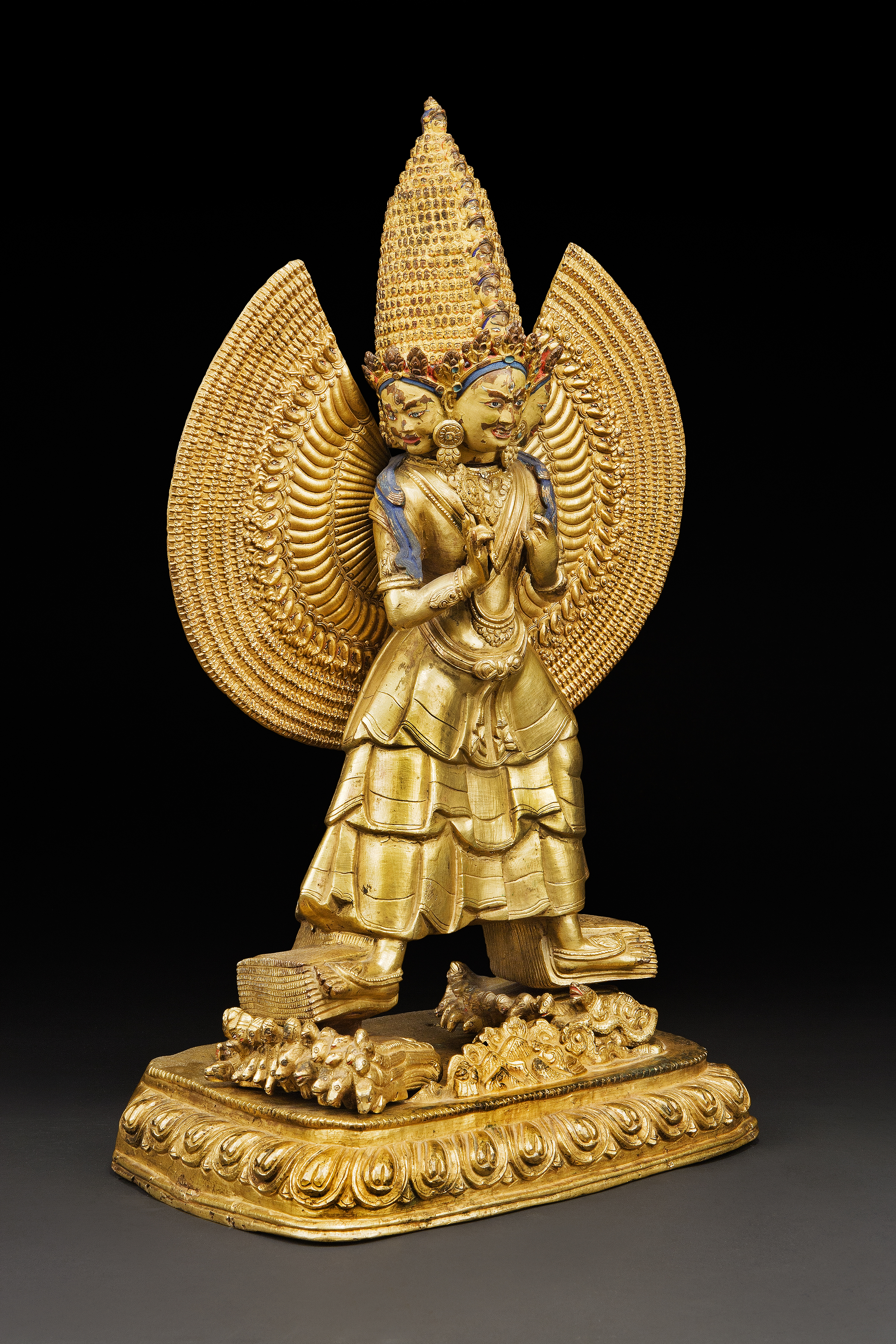 China/Tibet, Qianlong
50.5 cm (19.9 in)
From the collection of John and Berthe Ford. Published: Pal, Pratapaditya. "American Collectors of Asian Art", 1986, pg. 200, pl. 14.
Exhibited: Rubin Museum of Art, "Female Buddhas: Women of Enlightenment in Himalayan Art", June 4, 2005 - January 15, 2006
HAR # 73897
The goddess Sitataptra is portrayed with 1000 faces, 1000 hands, 1000 legs and 10,100,000 (ten million one hundred thousand) eyes. The main face in front is white with 199 white faces above, to the left is a vertical row of yellow faces, to the right is a vertical row of green faces, and on top of those are 200 more blue faces. Each face has three eyes and each set of colored faces displays a different expression. In the first pair of hands the right holds a Dharma Wheel in the Refuge Giving mudra (gesture) and the left holds an arrow together with the handle of a parasol, held to the heart, unfurled above on the right side. She is adorned with various jewel ornaments and wears upper and lower silk garments of assorted colors.
A further 99 pairs of hands hold in the right a Dharma Wheel and an arrow in the left. The remaining 400 hands on the right hold a vajra, jewel, lotus and vishvavajra (double vajra), 100 of each object. The remaining 400 hands on the left hold a bow, sword, lasso and hook, again 100 of each object. The 500 legs on the left side are extended above worldly deities and a host of animals and the legs on the right are bent and press down on all worldly troubles, daemons and animals. All the limbs and parts of her body are covered with large staring eyes, flashing like lightning, earnestly longing out of compassion for sentient beings. She stands upon a lotus and is completely surrounded by the flames of pristine awareness.
Art History: The Qianlong Emperor was dedicated to the large scale production of Buddhist works of art and is remembered for the development of distinct artistic styles. Many of the Buddhist gilt bronze statues produced under the patronage of Qianlong followed Gelugpa artistic tastes and iconographic regimens. Many of these figures are easily recognizable for the portrayal of heavy sets of legs as exemplified most notably in the large scale production of Vajrabhairava statues in the Qianlong period.
Qianlong's closest advisor in Buddhist matters was his boyhood friend and tutor, Changkya Rolpai Dorje, a master of the Gelug tradition. The previously obscure protective goddess Sitataptra found widespread propitiation under the flourishing of the Gelug school just after the time of the 5th Dalai Lama. As a result of this, many examples of Sitataptra can be found throughout some of Beijing's most important Buddhist centers such as Yonghegong and Bei Hai. This example of Sitatapatra was likely produced in or around Lhasa and exhibits characteristics of strong Chinese influence. A similar example likely from the same atelier can be found at the Pitt RiversMuseum, University of Oxford. (HAR # 35846)
中原/西藏,乾隆时期
50.5 厘米(19.9 英寸)
来自John and Berthe Ford收藏
出版:Pal, Pratapaditya. "American Collectors of Asian Art", 1986年, 200页
展览:鲁宾艺术博物馆,"Female Buddhas: Women of Enlightenment in Himalayan Art",2005年6月4日至2006年1月15日
喜马拉雅艺术资源中心编号:73897
图解:这尊大白伞盖佛母有千面、千手、千腿以及10,100,000只眼睛。主面朝向前方,主面上方是一百九十九张白脸;左边是一排垂直的黄脸,右方则是一排垂直的绿脸,它们的上方则是两百张蓝色的脸。每一张脸都有三只眼睛,每一组不同颜色的脸都呈现出不同的表情。主臂右手持法轮,施无畏印,左手手持箭和伞柄,并靠向胸前,向右上方展开。她身佩多种宝石,着各色帛衣。
另外有九十九双手右持法轮,左手持箭;另外四百只手则右持金刚杵,珠宝,莲花和十字金刚杵各一百件;剩下的四百只手右边持碗,剑,套索和钩子,同样也是各一百件。左边的五百只腿踏于世俗诸神和动物身上,右腿弯曲踏向一切俗世困难,恶魔和动物。身体其他部位则布满了嗔怒的大眼,目光如炬,向众生施予无尽的慈悲。她站立于一只莲花之上,周身外围布满炽燃火焰。
艺术史:乾隆皇帝曾大力推行大型佛像艺术的建造,促进了佛教独特艺术风格的发展。许多奉乾隆皇帝之命制造的铜鎏金佛像都依照了藏传佛教格鲁派的艺术风格和肖像规则。这类作品特征明显,如对于腿部的厚重描绘等都非常容易辨别,最明显的例子就是乾隆时期大规模制造的大威德金刚塑像。
章嘉·罗赖毕多尔吉(章嘉大师),是藏传佛教格鲁派的一名大师,也是乾隆皇帝自幼时起的伙伴和佛教导师。五世达赖之后,格鲁派兴盛起来,保护女神大白伞盖佛母也因此开始大为流行。因此,北京的许多重要佛教中心都存有许多大白伞盖佛母像,例如雍和宫和北海。此件大白伞盖佛母像则很有可能制造于拉萨或者拉萨周边地区,并有很强的中原风格。一件相似风格的塑像藏于牛津大学皮特里斯博物馆(喜马拉雅艺术资源中心编号:35846)